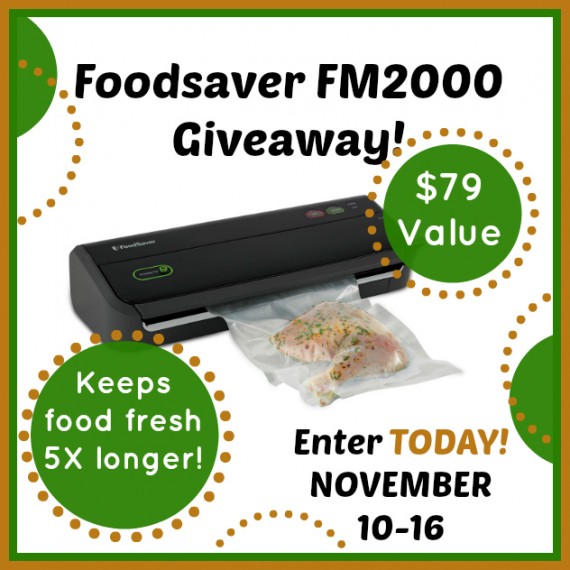 I have stated that a foodsaver is on my list of things to get and it still is. Here is an opportunity for you to win one. Good luck.
We have some FoodSaver tips and giveaway today! Have you been wanting a FoodSaver® Vacuum Sealer? Well, today is a sponsored post by FoodSaver® and we are so grateful to be able to share this giveaway with our readers! You can use FoodSaver bags, FoodSaver containers and mason jars to preserve your food for the pantry or freezer. This FoodSaver® Vacuum Sealer FM2000 comes complete with the following:
We quote from the
FoodSaver
website "The FoodSaver® FM2000 Vacuum Sealing System keeps food fresh up to 5x longer and saves up to $2700 per year based on buying in bulk, on sale and preventing waste. Form and function combine with a sleek, compact design and easy-to-use manual operation to preserve a variety of foods."
Tips
Use mason jars to make your
breakfast meals
,
salads for a week
, buy food in bulk and put in smaller FoodSaver bags or mason jars to store and save $$$$! Please share how you would use this awesome giveaway if your name is chosen as the winner.
Terms & Conditions:
This FoodSaver® Vacuum Sealer FM2000 Giveaway is open to any resident who is 18 years of age or older who lives in one of the 48 US Contiguous States. This giveaway starts on Monday, Nov. 10th at 5:00 am (MST) and ends on Sunday, Nov. 16th, 2014 at 5:00 pm (MST). The winner will be notified by email and will have 24 hours to respond. If we do not hear back from said winner in the designated time period of 24 hours we will choose another winner and they will have 24 hours to respond from the time the notification email is sent. Please check your SPAM email folders. Good luck to everyone! Let's be prepared for the unexpected!
a Rafflecopter giveaway
Rural Dreams and Homestead Wishes
Want to try a different and new social media? Check out tsu, I am just learning, but supposedly you get paid for sharing your content. You have to join through someone who is already there.
So I you would like check it out here.

Affiliate Link Disclosure: This post may contain affiliate links. I may receive compensation for links, endorsements, testimonials, or recommendations for any products mentioned on this blog. Any time you use one of our links for Amazon, if you purchase something The Rural Economist receives a small commission and it doesn't cost you any more. Even if you do not purchase the items I list. In this way you will help support us trying to teach people about self reliance and homesteading. Thanks for your consideration.