FoodSaver Group Giveaway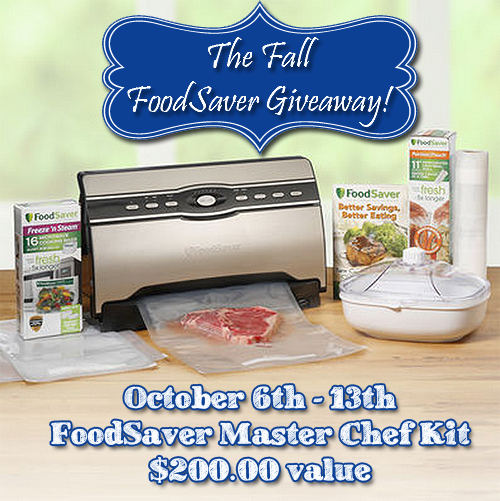 If you are anything like I am, you hate to have to throw food away. To me you might as well just throw money out the window as you are driving. It is the same difference to your family and it might help someone who needs the assistance. Throwing food out only benefits corporations. Enough of my soapbox.
A FoodSaver is on my wishlist. There you have it you can win one before I get one. Why would you want to win a FoodSaver? The ability to buy items in bulk, especially meats and then break them down into smaller portions. The larger the quantity per package "typically" the lower unit price. 5 pounds of ground beef normally costs less per pound that a 1 pound package. With a FoodSaver you can buy the 5 pounds and break it down into the smaller packages and save money, plus you have it on hand. This same process can be used on dry goods like flour, sugar, dry beans, you get the idea. I like the idea of being able to buy a 50 pound sack of flour and break it down into a lot of smaller packages and being certain that the flour will be good when I need it.
This FoodSaver Giveaway is open to any resident who is 18 years of age or older who lives in one of the 48 US Contiguous States. This giveaway starts on Monday, Oct. 6th at 5:00 am (MDT) and ends on Monday, Oct. 13th at 5:00 pm (MDT). The winner will be notified by email and will have 24 hours to respond. If we do not hear back from said winner in the designated time period of 24 hours we will choose another winner and they will have 24 hours to respond from the time the notification email is sent. Please check your SPAM email folders. Good luck to everyone! Let's be prepared for the unexpected! *****Please note: We may have to exchange this exact FoodSaver with a comparable or more expensive FoodSaver should this item sell out or not be available when our giveaway ends. Thank you so much for your understanding. Good luck!
Rural Dreams and Homestead Wishes
Affiliate Link Disclosure: The post may contain affiliate links. I may receive compensation for links, endorsements, testimonials, or recommendations for any products mentioned on this blog. Any time you use one of our links for Amazon, if you purchase something The Rural Economist receives a small commission and it doesn't cost you any more. Even if you do not purchase the items I list. In this way you will help support us trying to teach people about self reliance and homesteading. Thanks for your consideration.